Join an interactive session and live demonstration hosted by customer relationship management experts. Discover how leading healthcare organizations are using Microsoft technologies to enhance the patient experience, empower care teams, and make better decisions with data-driven insights.
Date: Thursday, March 10th


Time: 11am PT/ 2pm ET

Duration: 45 minutes
All attendees will receive a $5 Starbucks gift card and be entered into a giveaway for a $100 Amazon gift card. *

Expert Speakers:
Danny Knight, Sr, Dynamics CRM SSP, Microsoft


Greg Gant, Dynamics CRM Online Practice Lead, SADA Systems



Patrick Watson, Senior Business Development Manager, SADA Systems
Session Highlights:
Simplifying business management workflows and improving customer relationship processes.





How to use cloud services, mobile solutions and analytics to enhance collaboration and provide speedy access to crucial information.




Overview of simple and cost-effective tools for chronic condition management, care coordination, referral management and case management.



Demonstration of how to use a single tool to improve data integrity and accelerate the time it takes to add, remove or update information.
Live Q&A to get your specific questions answered.
Space is limited.
Reserve your spot today!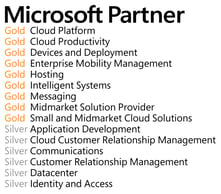 *SADA Reserves the right to deny reigstration. Attendees must be in the US to be eligible.